As Directors, Dr. Joe and Sheri Holden bring to Maplewood a strong mix of enthusiasm and experience. As parents of four children themselves, they demonstrate to the entire staff the level of commitment that is expected.
Joe has taught at the high school and college levels. He has been a high school Athletic Director and Coach, and spent nearly a dozen years on the staff of the Pierce Country Day School of Roslyn, NY. While at Pierce, Joe worked his way up the ladder in all facets of the program and administration. Joe holds a Doctorate of Education degree from Nova Southeastern University.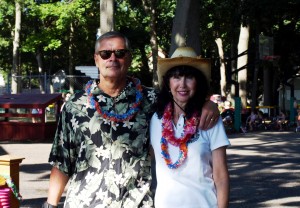 Over the years, Sheri has been a busy mother of four working on numerous school, athletic and community groups. Sheri's background in customer relations and administration combined with her genuine love for children serve her well as a Director.
The key to any organizations success lies in the quality of its staff. At Maplewood, a large part of our staff is comprised of college students. Our Senior  staff is comprised of teachers, school administrators, coaches and parents (many of whom have spent several years as an integral part of the Maplewood team).
All prospective staff members begin with filling out an application and undergoing a personal interview with the directors. If the candidate appears to have the background and skills pertinent to the Maplewood situation, then their work references are checked completing the screening process. Next, in the weeks prior to our opening day, we conduct an extensive staff orientation so that our team completely understands the Maplewood experience.
In addition to our fine staff, each summer we host "Teachers in Residence!" These professionals come to Maplewood and add their own insights and experiences to help your child learn about themselves and the world around them.